At Home: Living Room Reveal
I still remember the first time I saw the listing of our home. Our realtor sent Adam and I one photo (it was the living room) with the message "I found your dream home." He was right. Eight years later and I still pinch myself when I come home to it.
The house was turnkey ready when we bought it, leaving to us only the task of decorating it. And we loved it the way it looked for years. But personal style changes, and over that time I've certainly to come to appreciate specific periods of design and furniture. And it was time to refresh the look. Thanks to Structube, we were able to make it happen! Their new megastore just opened in Hamilton and I knew I would be looking to their new collections when it came to updating this space. They helped me find the perfect pieces to finish off our living room makeover.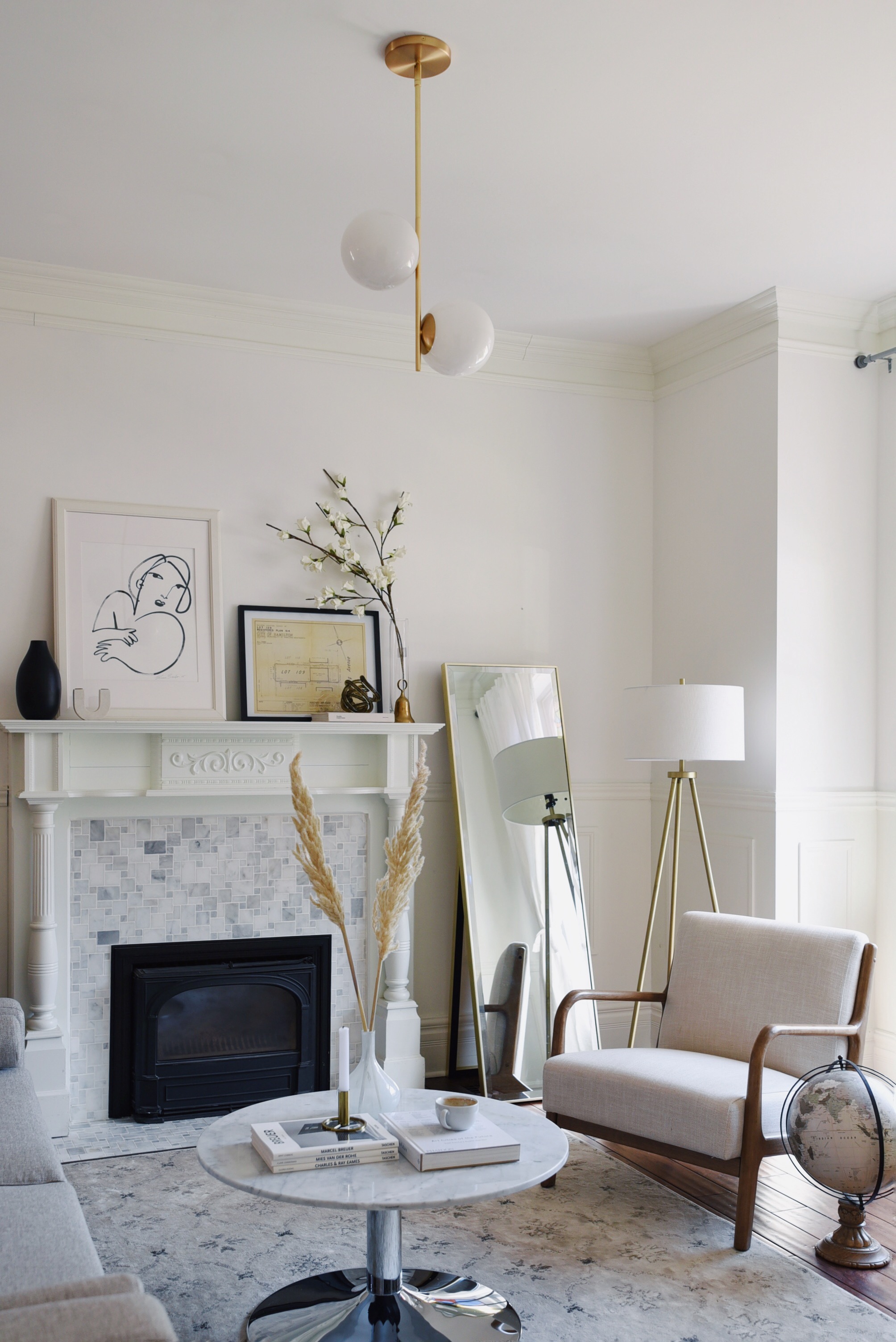 A Century Home in Hamilton
Being around 120 years old, our house benefitted from good bones. With high ceilings, original windows with stained glass, beautiful crown moulding and high baseboards -- there is no shortage of character. Though there had been some changes over the years, the previous owners respected the original floor plan and flow of the house. They didn't try to make it something it wasn't. And that was one of the things we loved about it.
A fresh coat of paint (Daylight by Premier Infinity at Canadian Tire) brought light and warmth to the space. I can't explain how many white paint chips I compared. It had to be the right white. But the paler palette allowed me to add texture and depth through other materials. I'm drawn to classic modern 20th century designers - Hans Wegner, Marcel Breuer, Ray and Charles Eames. And I knew I would introduce some signature furniture styles inspired by their designs along with some sentimental decor -- art I have collected, the original survey of the first home Adam lived in, some brass pieces from his papa. But before the decor, I had to start with the foundation pieces.
The Sterling Sofa from Structube was a piece I bought back in the winter. I love the modern take on a classic mid-century style sofa. It has clean lines, tufted back cushions, and two matching round bolsters that easily change up the look. At $769, the price point is so affordable, especially for the quality of the sofa. And Adam has fallen asleep on it more times than I can count, so it gets points for comfort. I love curling up and reading, so I wanted to find a comfortable armchair that complimented the sofa. I landed on the Esters Armchair from Target. It also has a mid-century look, with a sturdy wood frame and an upholstered seat with beautiful texture. But it was the Martini Coffee Table from Structube that became the focal point of the room. Drawing influences from Italian design, the marble top sits on top of a chrome pedestal. It works effortlessly with the other pieces, but also adds elegance to the living room. I added warmth to the space with this rug from HomeSense. I had seen a similar style at Elte Mkt. I loved the subtle pattern and soft texture, but not the price point. I stumbled across this version for under $200 and was thrilled.
Let's talk lighting. Inspired by the IC Lights designed for FLOS, I swapped out our chandeliers and lamps for simple sphere shaped fixtures. I love the minimalist aesthetic. The Sphere and Stem Pendant from West Elm has beautiful glass globes with a milky finish. And the matching Sphere and Stem Table Lamp with a marble base is the perfect complimentary piece for our new sideboard from Structube. I'll get to this piece more in our dining room reveal, but you can see a glimpse of it here!
The living room isn't completely decorated, it's not styled down to the last detail. And we're okay with that! We now have a solid foundation that we can continue to grow into and evolve over the years. It truly feels like space that is more reflective of our style. And there's so much potential to add to it. Stay tuned for our dining room reveal. And give me a follow on Instagram and Pinterest. I'll be sure to post future updates there!
A special thanks to Structube for helping me bring my vision to life! With a 40 year history in Canada, this family run business now has 55 retail locations offering modern and contemporary home furniture and decor. Their new 18,000 square feet store location in Hamilton is now open! And until May 12, they are running a contest for a chance to win a $2000 giftcard with any in-store purchase. Details here!